Schoolanywhere Mobile app - 1 app, 6 benefits
Discover all the benefits of our new mobile app
Achievements and behaviour
Parents can keep an eye on their child's performance at school by viewing their achievement and behaviour points, allowing them to see when and why they are being rewarded by their teachers and also be aware of any negative behaviour.
Attendance
Children's attendance at school can be accessed by parents using the app, providing detailed insights as to whether they are attending their classes and their punctuality.
Gradebook
This feature allows parents to understand how their child is performing at school, with an overview of their current grades. They can access detailed reports on how they are progressing within each individual subject.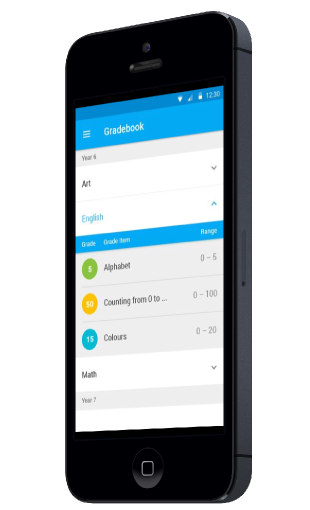 Timetable
Parents can access their children's timetables including which classes or activities they are attending. They can easily export these details from the app, into their own private calendar.
Events
An easy way to keep parents up to date with what's going on at the school with real time updates about meetings and events that are being planned. The app will send out push notifications as soon as the event is planned and every time there is an update.
Messages
The app provides a great way to improve communication between parents and teachers. Parents can quickly identify and message the staff member they'd like to speak to and receive real-time notifications when they reply.