Providing Moodle for Secondary Schools
Webanywhere have helped to make e-learning easy, engaging and accessible with effective Moodle learning environments for secondary schools in the UK and beyond. We have also developed a series of tools and resources specifically aimed at secondary education.
We have found one of the key frustrations in school is time - and we have developed our tools with this in mind. Our VLE solutions have a focus on saving time for senior leaders, teachers and system administrators. Furthermore, we create an environment that is unique to each school and integrates with existing platforms and processes - meaning Moodle becomes the central hub both inside and out of school.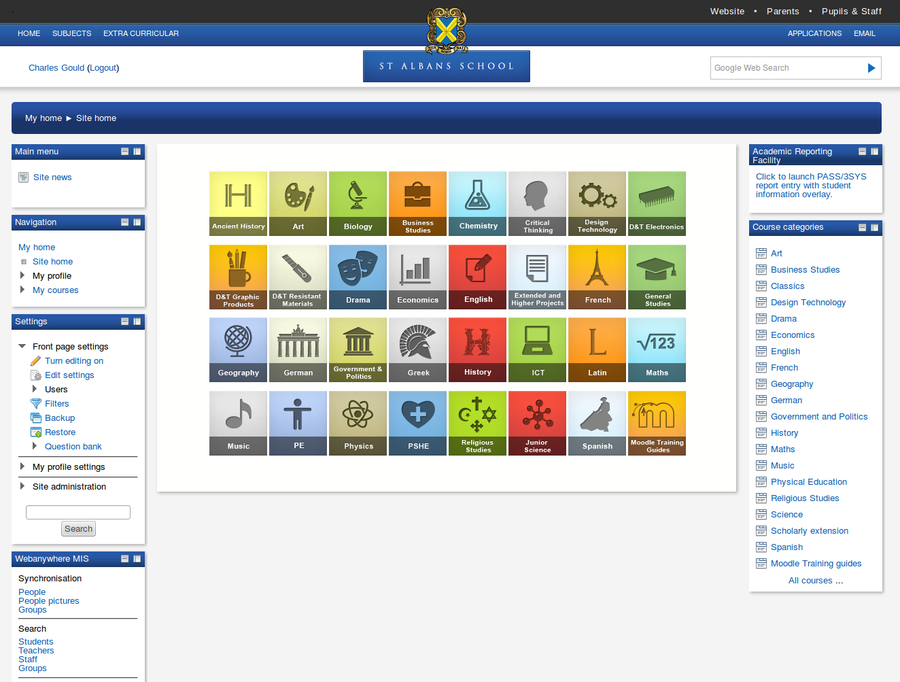 Time saving
For system administrators, Webanywhere have created a dynamic link with SIMS, meaning that the usual manual process of enrolling users, and the time consuming job of end of year rollover, is now automatically managed via the SIMS link. Each Moodle course links dynamically with your SIMS teaching tree, so when a new year starts, pupils and teachers are automatically associated with the correct course.
For teachers, we have developed a quick way of setting, grading and giving feedback on assignments. Additionally, teachers are notified when a submission is made and can even message pupils to alert them to an upcoming deadline.
Senior leaders in school can now extract custom reports, highlighting any areas for concern or trends they may wish to investigate further. Useful data can be extracted and analysed on both SIMS information, and also assignment monitoring and tracking. The reports are designed for leaders to notice any areas of training which may need addressing, and also to track pupils that require extra attention.
Everyone in the same place, all the time
Webanywhere are constantly looking to integrate with new systems suggested to us by our client base. The more tools we integrate with, the more reason for users to log in to the site, increasing the confidence and knowledge of staff and students alike.
Staff can take registers through Moodle, record achievement and behaviour points, and produce marksheets - as well as accessing emails, embedding documents from their Google Drive or Onedrive accounts and even accessing their shared drives from home.
Further to this, Webanywhere also allow parents to log in to the Moodle platform and access both SIMS and Moodle for their children on the go. Parents can manage their own passwords, meaning there is no need for administrators to spend days resetting passwords when a new report is produced. Also, pupils and parents are accessing the same system - so for those parents that struggle with logging on to the platform, the children become the trainers!
To learn more about how Webanywhere can help to transform e-learning for your secondary school , please contact us for an informal consultation on your needs.