Moodle MIS Integration
Webanywhere are the experts in Moodle and MIS integration, helping you to save time in managing student data. What's more, with our Moodle SIMS integration, the write-back functionality means that teachers can perform a number of tasks in the VLE and it will be written straight back to the MIS.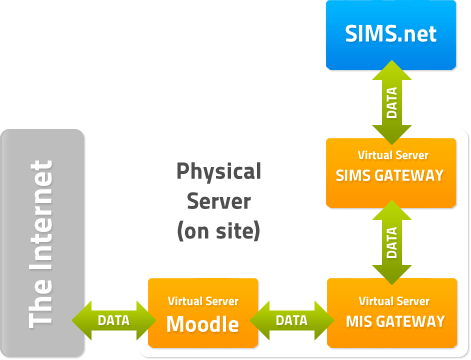 Moodle and SIMS Integration
Webanywhere provide a two way integration with Capita SIMS.net. We pull information from SIMS to display in Moodle, and push information real time back into SIMS from Moodle. We're very passionate about our SIMS integration tool, and feel it offers many benefits to schools. A breakdown of the items we can pull from SIMS, into Moodle is below:
User Synchronisation

- Access your SIMS teaching tree in Moodle to pull through users into the Moodle course structure. Once set up, this is managed centrally by SIMS. So each time a change is made in SIMS, it's reflected in Moodle.

Parent Portal

- An invaluable parental engagement tool. Parents can now view both Moodle and SIMS information. This allows a parent to spot trends in their child's learning, and also to be proactive in their approach to mentoring. SIMS information pulled into the parent portal includes attendance, timetable, a calendar of events that includes assignments and homework, achievement points, behaviour points and linked documents. Also, the whole system is modular allowing each school to decide what to show to parents.

Student portal

- This allows students to see their own attendance, timetable, performance and linked documents.
Webanywhere also allow staff to push information back into the SIMS database. This encourages Moodle usage, as daily tasks, which are normally performed in SIMS, can now be done directly in Moodle, saving on time, dispensing with the need for multiple passwords, and encouraging staff take up in the new learning platform. The feature set of write back tools is listed below:
Registers - teachers can take and record registers in Moodle, which transfers the data real time back to SIMS.
Achievement and Behaviour points - staff can also log achievement and behaviour points against individual students, or now as a new addition, groups of students.
Marksheets - Teachers are able to complete marksheets directly through Moodle, with a like for like copy of the existing marksheets presented in Moodle.
Until recently, transferring information from your MIS into Moodle was a manual process, with teachers having to input information into both systems. However, Webanywhere have developed Moodle and MIS integration software, which has allowed this to become a completely automated process for many systems.
This level of integration can bring a number of benefits to a school, including:
Significantly reduced staff administration duties through our writeback functionality

Presenting parents with up-to-date information on their children, including attendance, behaviour and achievements

Improvement of parental reporting within your school

Teachers taking advantage of MIS date at home as well as in the classroom

Moodle MIS integration also provides a solution to much of the new Ofsted Framework, helping you to raise Pupil Achievement, improve Quality of Teaching, deliver Effective Leadership and Management, and raise Standards of Behaviour and Safety.
We are specialists in Moodle integration with SIMS - the UK's most popular management information system - but also offer solutions for other types of MIS.
Please contact us for an informal discussion of your needs and to learn more about how we can help save time for teachers and save money for schools.